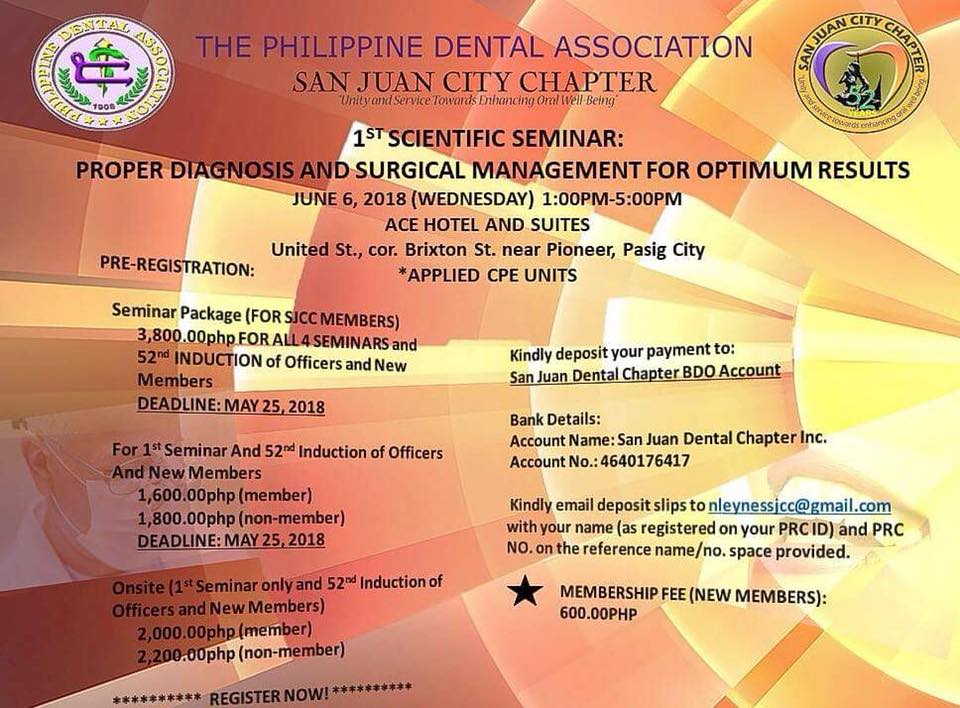 1ST SCIENTIFIC SEMINAR:
"PROPER DIAGNOSIS AND SURGICAL MANAGEMENT FOR OPTIMUM RESULTS" *Applied CPE
JUNE 6, 2018 (WEDNESDAY) 1:00PM-5:00PM
ACE HOTEL AND SUITES
United St., cor. Brixton St. near Pioneer, Pasig City
TOPICS:
> RADIOGRAPHIC INTERPRETATION
DR. MARIUSSE CHARS R. ESQUILLO, MSc-OMS
> COSMETIC ORAL PLASTIC SURGERY: TOTAL SOLUTIONS TO PROBLEMATIC CASES ON IMPROVING YOUR PATIENT SMILE
DR. DARIO M. REYES,FPCOMS FAAOMS FIAOMS
> COMPLICATIONS IN ODONTECTOMY
DR. JOVEN SULIVAN JAVIER, FPCOMS FAAOMS FIAOMS
PRE-REGISTRATION:
> Seminar Package (FOR SJCC MEMBERS)
3,800.00 PHP FOR ALL 4 SEMINARS and 52nd Induction DEADLINE: MAY 25, 2018
> For 1st Seminar Only and 52nd Induction
1,600.00 PHP (member)
1,800.00 PHP (non-member)
DEADLINE: May 25, 2018
Onsite (1st Seminar only):
2,000.00 PHP(member)
2,200.00 PHP (non-member)
*Membership Fee (New Members): 600.00PHP
Kindly deposit your payment to:
San Juan Dental Chapter BDO Account
Bank Details:
Account Name: San Juan Dental Chapter Inc.
Account No.: 4640176417
Kindly email deposit slips to nleynessjcc@gmail.com
with your name (as registered on your PRC ID) and PRC NO. on the reference name/no. space provided.